Mumbai is the commercial and entertainment capital of India. There are always some exciting events happening here. On March 6th, the city celebrates the festival Holi along with the rest of India. Holi is the spring festival and better known as the festival of colours.
Here is a roundup of events in Mumbai on that day, celebrating Holi or otherwise.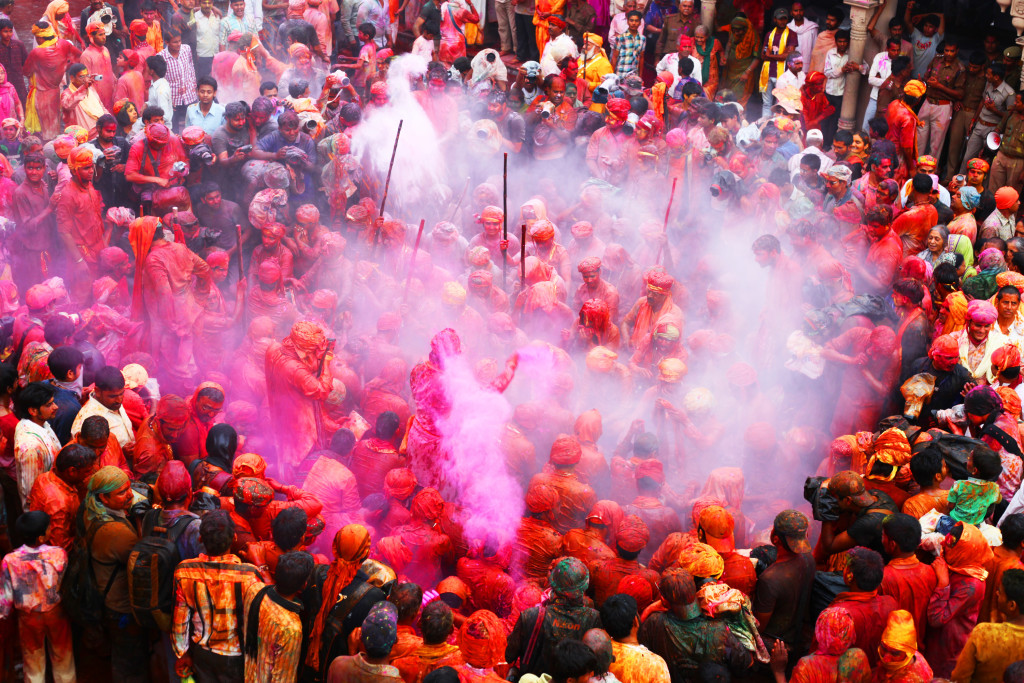 Rang Barase: It will start from 8 am on Friday, March 6th. Holi is celebrated with great gusto and fervour in Mumbai. Having a party with friends and family using lots of water and colour will make for a grand celebration. The event is organized by Third Eye Explorers and they have booked a beach resort for staging the festivities. They take care to use clean water and organic colours.
Wild Colours Music Festival: Starting from 8 am on March 6th, it is a music festival celebrating Holi and venue is Courtyard grounds, Thane West. It is being organized by Bongistaan.
Grand Holi Feasts 2015: To be held from 9 am to 6 pm, it is being hosted by Red Horse Events and Entertainment in Borivali East, Mumbai. Have a good time with Holi colours and DJ Hookah.
Colourful Holi Party: Staged by 3 ACE Events Company, it features DJ for music and dance, colourful games, breakfast, lunch etc. It is meant for couples or groups of friends.
Holi Utsav: Starts at 10 am in Ferreira Farms, Manori, Mumbai. Play with colours and celebrate with Gulal, Dhol and Bhang. Dress in traditional clothes and have a great time.
Holi Reloaded Festival: A Holi party hosted by eventelaan.com in Kandivali West, Mumbai.
Splash Holi Party: Starting at 10 am, venue is Celebration Sports Club. Code 9 Entertainment brings you the biggest Holi party in Mumbai with Bollywood fame DJ Akhtar.
Mountain Hikes and Tea Gardens: The Blue berry Trails, Mumbai is organizing pleasure trip to the amazing state of Sikkim. Having panoramic views and beautiful landscapes, it has great potential for exploring tea gardens and going for mountain hikes. It is surrounded by Himalayas on all sides except the South. The trip will focus on: Local hikes/ Mountain Life/ Tea garden stay / Rural life/ Trek/ local Sikkimese Brews and Cuisine and Photography. The Sikkim road trip is being held from 6 March to 13th The trip costs Rs 36,000 per person and covers 7 nights and 8 days.
Plus 91 Holi Reloaded: Plus 91 is at it again with the 3rd version of Holi Reloaded.
PooJ Sindhi Punjabi Holiday Shell: Chembur and Ghatkopr: To be held from 5.30 pm to 10.30 pm. Venue is Rochiram T. Thadani High School for Hearing Handicapped, Mumbai.
International Belly dance Fusion Festival by Bwitch: It will be held from 6.30 pm to 10 pm, at the Hive, in Khar West.
Turtle Festival 2015: At Velas, Ratnagiri from 10.30 pm on March 6th to 10.00 pm on March 8th. A family tour has been organized to Velas beach to take part in the 2015 Turtle Fest. It will be organized by the Chiplun based Sahyadri Nisarga Mitra. The highlight of the trip is watching the hatchlings of the Olive Rydley Turtle.
These are some of the recent events in Mumbai, to be held to mark above all things, the festival of Holi.
Author's Bio: He is a freelance travel writer. He is most fond of Mumbai among Indian cities. He keeps a tab on the happenings and recent events in Mumbai and contributes articles on the same to eventshigh.